Seniors, Elders, Physically challenged, Dental Health Care - with disabled access and on-site parking. You may retire but your teeth still have to work!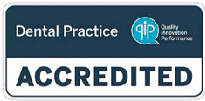 You may have retired but your teeth still have to work!

Xerostomia is refered to as the "Dry Mouth Syndrome" - it is prevalent in older people and must be treated so that it does not lead to more serious oral health issues.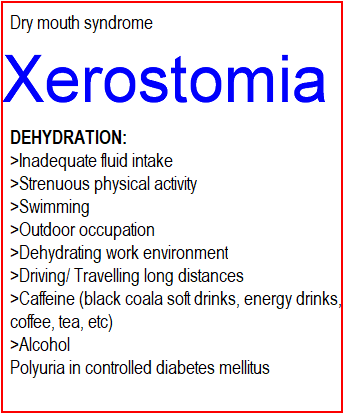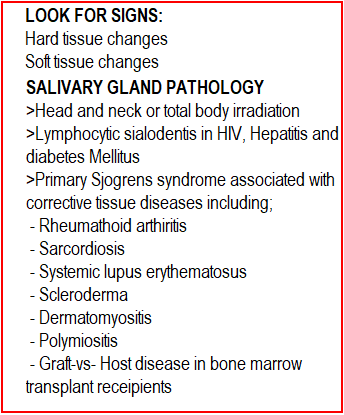 LOOK FOR SIGNS:
Hard tissue changes
Soft tissue changes



Dry mouth syndrome




DEHYDRATION:
>Inadequate fluid intake
>Strenuous physical activity
>Swimming
>Outdoor occupation
>Dehydrating work environment
>Driving/ Travelling long distances
>Caffeine (black coala soft drinks, energy drinks, coffee, tea, etc)
>Alcohol
Polyuria in controlled diabetes mellitus






SALIVARY GLAND PATHOLOGY
>Head and neck or total body irradiation
>Lymphocytic sialodentis in HIV, Hepatitis and diabetes Mellitus
>Primary Sjogrens syndrome associated with corrective tissue diseases including;
- Rheumathoid arthiritis
- Sarcordiosis
- Systemic lupus erythematosus
- Scleroderma
- Dermatomyositis
- Polymiositis
- Graft-vs- Host disease in bone marrow transplant receipients


















Timings

Mon-Friday 8am-5pm
OPEN OCCASIONALLY ON SATURDAYs

Contact details

785 Pacific Highway, Gordon
(opp Woolworths)NSW 2072.
Tel: 94986652, Fax: 94995954
patientcare@gordondentalpractice.com.au
Dr. Marion D'Souza

Dr Murray Willams


B.D.S (Adel), D.P.H. Dent. (Syd) B.D.S (Syd)

Our renovated, state of the art surgery, has been serving the community for 40years at the same location. Our family friendly practice treats all age groups and understands that they each have different disease patterns. Our vast experience enables us to make accurate diagnosis and develop appropriate treatment plans to give our patients the best possible care that works towards delivering the best possible outcomes. Our
team will continue to develop the range of services so that our existing and new patients are treated using modern equipment in an environment that is operated at the highest possible infection control compliance.



PROVIDER
Medibank Private
MBF
CBHS Select
HBA



PROVIDER
Medibank Private
BUPA
CBHS Select
DVA




Timings -

Mon-Friday 8am-5pm-
Saturdays (occasionally) - 9am to 1pm-
Contact details-
1 PARK AVENUE, Gordon, NSW 2072-
diag-opposite Gordon Police Stn across bridge-
Tel: 94986652, 94996684 Fax: 94995954-
patientcare@gordondentalpractice.com.au-