Good oral health is instantly recognised by a well aligned set of teeth so essential to your public persona!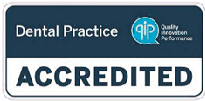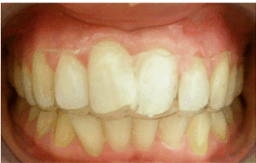 For patients who prefer unobstrusive methods to correct teeth alignment there is a reliable treatment option that uses Sequential Aligners instead of brackets and wires.

Sequential aligners allow the patient to use a plastic appliance in their mouth that is removable and replaceable with other appliances, at planned routine intervals, slowly guiding the teeth into a proper occlusal position.

Each aligner is made to perform a particular shift or tooth movement with exactly the right pressure so there is no resulting trauma that at times could damage the structure of the tooth. The next aligner carrys on the task of the previous one with a little more intensity so driving it to a planned conclusion over several months.

The pictures shows how the appliance fits into the mouth and covers the teeth with a clear plastic covering which is actually a sophisticated tailored mould that creates properly calculated forces to gradually deliver the alignment.

The images demonstrate the fine movements that can be achieved to finally deliver a set of aligned teeth.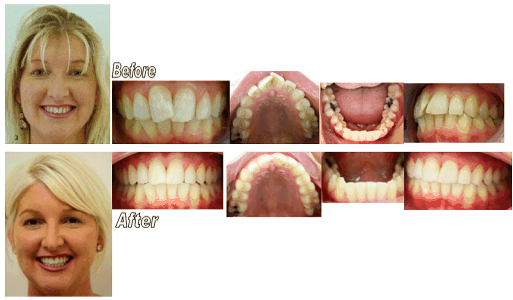 It takes a lot of work to get it right. Patient cooperation is important. After care is a serious consideration which will determine how well you respond to treatment.




Dr. Marion D'Souza

Dr Murray Willams


B.D.S (Adel), D.P.H. Dent. (Syd) B.D.S (Syd)

Our renovated, state of the art surgery, has been serving the community for 40years at the same location. Our family friendly practice treats all age groups and understands that they each have different disease patterns. Our vast experience enables us to make accurate diagnosis and develop appropriate treatment plans to give our patients the best possible care that works towards delivering the best possible outcomes. Our
team will continue to develop the range of services so that our existing and new patients are treated using modern equipment in an environment that is operated at the highest possible infection control compliance.



PROVIDER
Medibank Private
MBF
CBHS Select
HBA



PROVIDER
Medibank Private
BUPA
CBHS Select
DVA


Timings -

Mon-Friday 8am-5pm-
Saturdays (occasionally) - 9am to 1pm-
Contact details-
1 PARK AVENUE, Gordon, NSW 2072-
diag-opposite Gordon Police Stn across bridge-
Tel: 94986652, 94996684 Fax: 94995954-
patientcare@gordondentalpractice.com.au-